Foundry Place Garage
About
100 Foundry Place (map) garage has 600 spaces, bringing needed support to both residents and visitors, as well as aesthetic and cultural improvements to the North End area of the City. Below please find a helpful FAQ on the parking garage, as well as documents and meeting videos. 
Click here to access the Foundry Online Account Portal.
And did you know you can pay for your parking with the ParkMobile app?
What are the Foundry Place parking rates?

The Foundry Place Garage (600 spaces) is open 24/7.  Rates are $1.00 per hour; Max Rate: $20.00; Lost ticket: $20.00; Free All day parking on Sunday for Portsmouth Residents.  Residents must show driver's license for proof of Portsmouth Residency.
How can I obtain a monthly parking pass at Foundry Place?

If you are interested in obtaining a monthly parking pass at the new garage, please do the following at your earliest convenience:

Current Hanover pass holders and new customers should contact the Parking Clerk's office at City Hall in person to put down a deposit of the first month's payment to secure your pass.
Card deposits will transfer from Hanover to the Foundry

Payments made for parking at Hanover will be applied to your new Foundry account
Interested parties can also secure a Foundry account by stopping by the Parking Attendant Booth at the Hanover Parking Garage. You will need to provide contact information and a check deposit to secure your space. 
How can I pay to park at Foundry Place?

Take your ticket with you when you park. There will be pay stations located in the elevator bay (cash and credit cards accepted) and in the west stairwell near Rock Street (credit card only). Patrons will pay at the paystation upon returning to the garage, and prior to retrieving their vehicle. Once payment is made, patrons will retrieve their vehicle and proceed to the exit station, insert their paid ticket, and the gate will allow exit. There is also the ability to pay at the exit stations (credit card only). The EZPark system and the Park Mobile app cannot be used to pay for parking at the Foundry Garage. 
Are there electric vehicle charging stations at Foundry Place?

Yes, there are three charging stations at Foundry Garage; two plugs on the first level and one plug on the second level.
Is there public art at this facility?

The Foundry Place Garage, in accordance with chapter 1, Article XVII. Section 1.1702 Percent for arts, includes $150,000 in the project budget to solicit artists for artwork to be included as part of the project. The Foundry Place Project Planning Committee received six proposals as finalists for the Percent for Art public art at the new Garage. These proposals represented a wide range of conceptual ideas, materials, and uses for the space inside and outside of the new garage. Two projects were chosen, the "Etched Glass Concept" and the "Hammer Concept," shown below. 
Reflections of Portsmouth Exhibit
Installation Team
​​​​​​Mary Jo Brown, Founder and President of Brown & Company Design, generously volunteered her expertise to spearhead Reflections of Portsmouth (shown below), a temporary exhibit that lines windows of the garage and showcases both the beautiful imagery and creative talent that exists in Portsmouth. The City is extremely grateful for her company's pro bono work that lead to another unique feature within our new building. Below please find a full list of everyone involved in this installation. 
Mary Jo Brown, Founder and President, Brown & Company Design, Volunteer & Lead Curator

Andrea Cairns, Brown & Company Design, Image Prep and Coordination

Lisa Almand, Infinite Imaging, Art Production and Installation Manager

Tom Cocchiaro, City of Portsmouth Parking Division, Display Project Manager
Contributing Artists
John Benford

Amy Brnger

Philip Case Cohen

Tom Cocchiaro

Lawrence Elbroch

Holly Elkins

Eric Gendron

Ken Goldman

David Goodman

Acksone Hauschel

Richard Haynes

Susan Hershey

Geneve Hoffman

Craig Hood

Nancy Horton

Barbara Ingersoll

Emily Kalina

Sarah Koff

Jennifer Lacey

Harry Lichtman

Fran Mallen

Bob McGrath

Aris Moore

David J. Murray

Terri Nulph

Bill Paarlberg

Marianne Pernold

Karina Quintans

Sheila Reardon

Matt Siler

Robert Squier

Zachary K. Smith

Matt Talbot

Paul Timmons

Charter Weeks
Foundry Place Garage Meetings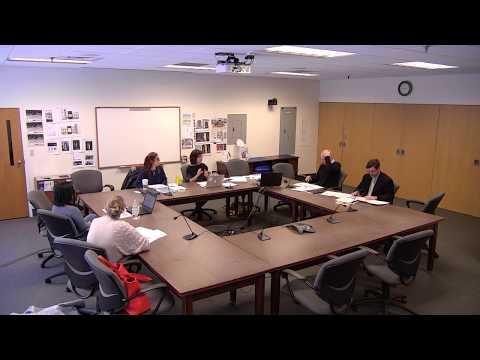 02.08.2018 Public Art Committee (New Parking Garage - Foundry Place)
February 8, 2018
02.08.2018 Public Art Committee (New Parking Garage - Foundry Place)
Content
Project Manager: Dave Allen, dsallen@cityofportsmouth.com
Dan Hartrey, djhartrey@cityofportsmouth.com