Trees & Public Greenery Committee
The Trees & Public Greenery Committee was established by Ordinance [Article I, Section 1.413] and consists of nine (9) voting members including the City Manager or designee, the Tree Warden, the Public Works Foreman in charge of tree maintenance, and six (6) individuals with an interest in trees and public greenery.  The members of the Committee are appointed by the Mayor and City Council for three year terms.
The main purpose of the Committee is to advise and assist the City's Tree Warden in implementing the provisions of the "Portsmouth Urban Forestry Ordinance," [Article III, Section 8.300] to ensure the proper expansion, protection and maintenance of the City's Urban Forest, by (1) establishing on public lands and public rights of way as many trees as can be maintained in a suitable and aesthetically pleasing manner; (2) encouraging the planting of trees that will represent a diversity of species and age classes; (3) regulating the enforcement and planting and maintenance of trees on City property; and (4) establishing limits on the amount of disturbance that may take place on any public property. 
No trees may be removed from any public right of way or public place in the City without a permit from the Tree Warden and permits may not be granted until after a hearing has been held by the Trees & Public Greenery Committee.
If you have any further questions please contact Maxwell Wiater, Certified Arborist and City Arborist Foreman, 603-570-8480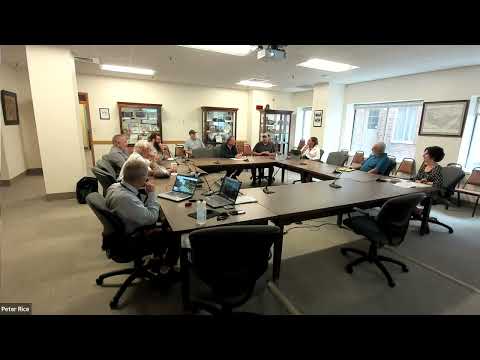 9.13.2023 Trees & Public Greenery Committee
September 13, 2023
9.13.2023 Trees & Public Greenery Committee
Content
| Name | Address | Home Telephone | Appointment Date | Expiration Date |
| --- | --- | --- | --- | --- |
| Richard G. Adams | 75 Kent St. | (603) 436-4445 | 3/17/2003 | 06/07/2024 |
| Patricia Bagley | 213 Pleasant Street | (617) 680-7136 | 09/19/2022 | 09/03/2025 |
| Deborah Chag | 19 Cabot St. | (603) 498-5362 | 08/23/2021 | 08/23/2024 |
| A. J. Dupere, State Forester | Urban Forestry Center |   |   |   |
| Michael Griffin | 579 Sagamore Ave, #55 | (603) 498-8960 | 6/18/2018 | 06/07/2024 |
| Joanna Kelley, Asst. Mayor, Council representative |   |   | 08/22/2022 | 12/31/2023 |
| Peter Loughlin, Chair | 336 Thaxter Rd. | (603) 431-6466 | 3/17/2003 | 06/07/2024 |
| Peter Rice, Public Works Director |   |   |   |   |
| Dennis Souto | 218 Willard Avenue | (603) 436-2466 | 9/04/2012 | 06/07/2024 |
| Maxwell Wiater, Certified Arborist and City Arborist Foreman |   | (603) 570-8480 |   |   |