The Skateboard Park Groundbreaking took place on May 25, 2003. Pictured, left to right: Blake Martin (Weston & Sampson), Councilor Rich Blalock, Mayor McEachern, Amy-May Court and Dave Cosgrove (Skateboard Park Committee co-chairs), Asst. Mayor Joanna Kelley, Christine Sproviero (DPW Project Manager), Peter Rice (DPW Director), David Quirk (Quirk Construction), Todd Henley (Rec. Dept. Director), Esther Kennedy.
UPDATE September 15, 2023:
Concrete foundations for shade shelter - Completed. 
Underground utilities (drainage, water and electrical) - 90% complete and on-going. 
Skatepark pad area - Gravel pad - Complete and ready for concrete.
Site grading outside the skatepark pad area - 50% complete and on-going.
Construction of concrete skatepark area – 40% Complete and on-going.
Foundations for Park Area Lighting – 95% Complete.
Skate Area Light Pole Installation – Complete.
Skateboard Park Project
The Skateboard Park planned for the site off Greenland Road (Rte 33) is part of a phased build out of the "Stump Dump" lot in the Master Plan. This would also be the main access point to the NH Seacoast Greenway Route (Rail Trail). Additional phases to include walking paths, playground, additional parking, lighting and field upgrades.
Funding for the Skateboard Park was included in the FY22- Capital Improvement Plan (page 76) for the FY24 budget. The proposed FY24-29 CIP (pg. 90) notes that FY24 Funding was completed in FY23 through a movement in the funding during the budget process. FY23 PPP reflects fundraising completed as of the end of FY22. FY28 and FY29 funding reflects the design and construction Phase II of the project.
At their April 17, 2023 the City Council voted to adopt a Resolution Authorizing a Bond Issue and/or Notes of up to One Million Eighty-Three Thousand Five Hundred Dollars ($1,083,500.00) for Additional Costs for Constructing the Greenland Road Recreation Facility (Skateboard Park)
 To receive email updates on this project, subscribe here:
Greenleaf Skatepark Hours
Content
Monday – 4:00pm to Dusk
Tuesday – 5:00pm to Dusk
Wednesday – 7:00pm to Dusk
Thursday – 5:00pm to Dusk
Friday – Dawn to Dusk
Saturday – Dawn to Dusk
Sunday – 2pm to Dusk
Skatepark Committee Meetings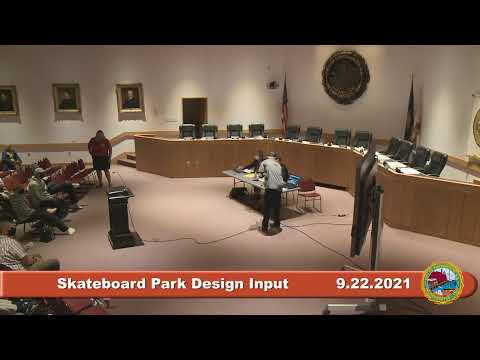 9.22.2021 Skateboard Park Design Public Input
September 22, 2021
9.22.2021 Skateboard Park Design Public Input